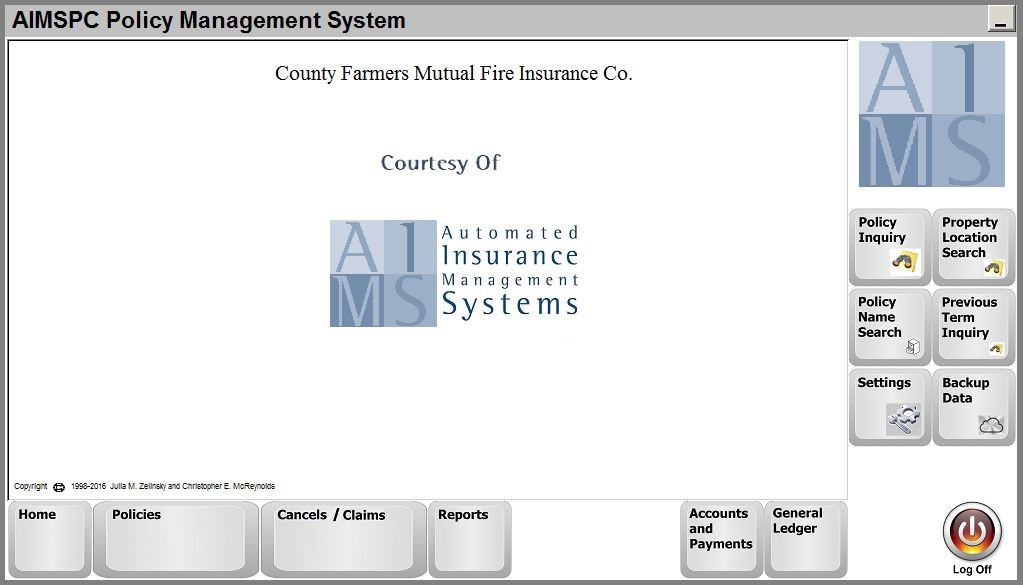 Complete Policy Management System
The AIMSpc policy management system takes a policy from application to renewal and everything in between, incorporating general policy accounting, policy rating, to claims accounting and more!
One System Does it All
Application
Declaration Page
Underwriting Support
Invoicing, Payments and Receipts
Endorsements
Renewal and Rewrite
Claims
Accounts Receivable Options
Reminder and Cancellation Notices
Monthly Agent Statements
Reinsurance Reporting for Premium and Claims Recovery
Optional Electronic Funds Transfer (EFT) Interface
And More
Statistical Reporting
Weekly, Monthly, & Annual Reports
Reinsurance, Accounting, Premium-to-Loss
And Much More!
Features
Policy ENTRY with drop down selections to simplify processing.
Policy INQUIRY for quick access to policy information without unauthorized changes.
Automated Policy RATING, with accurate lines of business evaluation. Per-hundred rates, Table-Rated, and Flat fees.
Policy ENDORSEMENT with premium calculations.
PRINTED FORMS, Declaration Pages for New business, Endorsements and Amendments. BILLING and INSTALLMENT NOTICES, including multiple payment options.
RENEWAL and REWRITE underwriting support and reporting. Including Continuous policy processing.
CANCEL and REINSTATE processing with notices and associated reporting.
STATISTICAL Reporting – including Reinsurance, Accounting, Premium-to-loss, Earned Premium, Written Premium, plus more.
PREMIUM ACCOUNTING, including Direct and Agency billing. Daily and –to Date cash posting with check capabilities.
Detail AGENCY ACCOUNTING with monthly statements and associated reports.
CLAIMS processing and reporting.
Simple system "Check for UPDATES" procedure.
Data Back-up (Cloud Services)

AIMS provides for "one-click" private Cloud backup storage, that can be run at your convenience.  This backup is a reliable off-site storage solution on private server space. This feature is also a small feature of a Companies off-site disaster recovery plan.
Simplified Systems Updates
Easy-click updates tailored to each companies requests or full system updates.
AIMS is Tailored for Your Business
AIMSpc is a software system fit to your company's unique needs by combining specific components, setting up your personal implementation schedule and designing the hardware needs to suit your company size. And it doesn't stop there. AIMS works with you to provide technical support and program modifications as your business grows and changes.